Model T Ford vintage cars
If you're not into gardening come to the open garden to admire some Model T Ford vintage cars and talk to some of the men who spend their spare time restoring them.
Henry Ford's Model T, produced from 1908 to 1927, was the car that "put the world on wheels". Around 16.5 million were built in the model's 19 year life span. The Model T featured a two-speed epicyclic transmission and rear wheel brakes, right up to the time production ceased.
1915 Ford Model T Ashton Racer.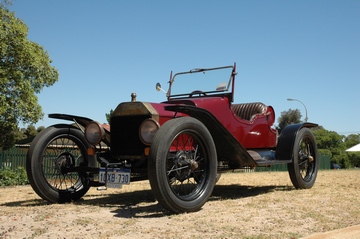 The 1915 Ford Model T known as the Ashton Racer was constructed by Ford Club of Victoria member Vic Ashton in the late 1970s. Historic Model T racer and enthusiast Mick Murphy who later used the Ashton Racer re-calls how he first met Vic: "I met Vic Ashton when we were on holidays down at Ocean Grove. I think it was in 1981. I spotted his then Fronty-powered racer parked by his campsite."
"After he caught me eye-balling the car and taking photos, he fired up the motor for me and then offered a quick spin out the road and back, by the end of the trip it was far too late to save me: the Four Banger Venom was coursing through my veins and I knew then that I had to have one of these beasts to save my life or be forever dammed!"
Mick said he told his father about meeting Vic during his holiday at the beach and told him of his fantastic "Ashton Racer ". Mick would later race the Ashton Racer and start building his own Model T race car.
Ford James Flood.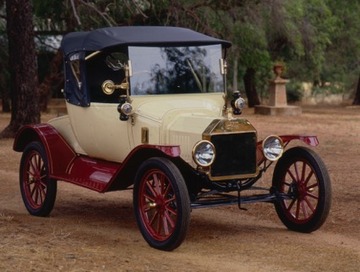 This 1915 Ford Model T has a unique Australian-made body by James Flood Coachbuilders of Melbourne. A myth of Ford Model Ts is that they were always black was never completely true and Australian cars were often painted in a variety of colours. Restored in Tasmania, the car spent many years in a Singapore car collection before being returned to Australia a few years ago. The car participated in the 2014 Lake Perkolilli Centenary of Speed in 2014.

Model T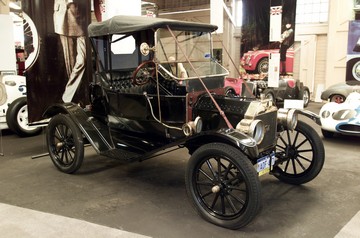 1919 Ford Model T "Torpedo" Roadster. Ford only produced this "Torpedo" model body type in 1910-1911 after which it was dropped from production due to lack of appeal. Price for the 1910 Torpedo was approximately $US700. The new "Torpedo" body style for 1910 featured racy lines, rakish steering column, box-like fuel tank on the rear deck and curved rear fenders. While it was a relative failure at the time (most people preferred the touring bodies) it has since became a minor classic. The property of the York Motor Museum, this T was recovered from a farm in Bourke, NSW restored many years ago. It was reputed to be the first Model T to cross the Blue Mountains.