Services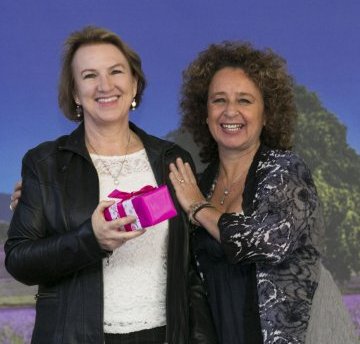 Caption: Deryn accepts thanks from Antonella Segre, CEO of Connect Groups at their 2014 National Awareness Day conference. Her keynote speech outlined the correlations between life and gardening - the more you put in, the more you get out.
Public speaking
Deryn is a popular speaker and available to talk at displays, conferences, trade shows and events on aspects of plants, gardens and travel.
She was the keynote speaker at garden/agricultural festivals in Bridgetown, Narrogin, Nannup, Margaret River, Port Hedland, Mingenew, Wickepin and Williams.
Since 2004 she has presented yearly at the Horticultural Media Association stage at the Perth Garden Festival (formerly Garden Week).
She was also the presenter/compare of the cooking stage at Perth's Garden Week in 2012 and 2013 and in 2016 compared Garden to Gourmet, working with professional chefs and local cooks, at the Nannup Garden Festival. Her food knowledge and advice on growing the herbs and vegetables the chefs are cooking with enhances the experience for the audience.
Deryn has an easy, natural presenting style and has been Master of Ceremonies at many garden-style events, including those held by Open Gardens Australia and garden book launches. She occasionally speaks at community gardens and garden clubs including the Gardeners' Circle WA and the Herb Society of WA.